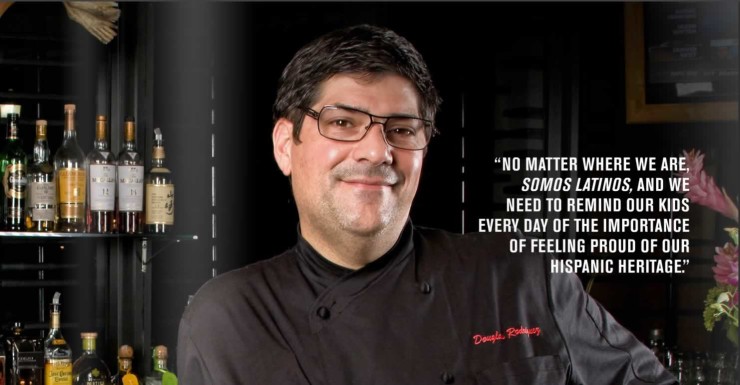 In fact, it's palpable. "No matter where we are, somos Lati­nos, and we need to remind our kids every day of the importance of feeling proud of our Hispanic heritage," says the chef, author, and businessman, who is proud to be a role model and bring Latin cuisine to the forefront
.
Born in New York to Cuban parents then raised in Miami, Rodriguez delivers his message through the pan-Latin American cuisine that has become his hallmark. He started his first restaurant,
YUCA, in Coral Gables in 1989, sparking the Nuevo Cubano cooking craze. He then whipped up the enduring Nuevo Latino trend as co-owner of Patria in New York City. His restaurant interests now include: De Rodriguez Cuba in The Hilton Bentley Hotel and Ola in the Sanctuary Hotel, both on Miami Beach; Deseo in The Westin Kier-land Resort & Spa in Scottsdale, Arizona; and Alma de Cuba in Philadelphia.
His interest in cooking started early. By the age of 13, he owned a collection of pots, pans, and cookbooks. At 14, he became a summer appren­tice in the kitchen of the Fontainebleau Hilton Hotel on Miami Beach. Believing in the power of a good education to secure one's future, he studied culinary arts at Johnson & Wales University in Providence, Rhode Island, which later awarded him with an honorary doctorate.
Among other prizes, Rodriguez received a James Beard Foundation Rising Chef of the Year Award in 1996, and in 2010 he won the Lifetime Achievement Award from Flavors of Passion Awards, which honors chefs of Latin American cuisine in the United States. In 2013, he was listed in the peer-reviewed Best Chefs America book.
Rodriguez is the author of Nuevo Lati­no (1995), Latin Ladles (1997), Latin Flavors on the Grill (2000), and The Great Ceviche Book (2003).
Source: http://issuu.com/guerrerohowe